HINOKI, also known as Japanese Cypress or White Cedar, is a wood treasured in Japan for its aromatic, healthful and healing properties. The ofuro, or traditional Japanese bathtub, is made of hinoki and is the inspiration for the Tosa Ryu line of hinoki products offered by Tribute Tea.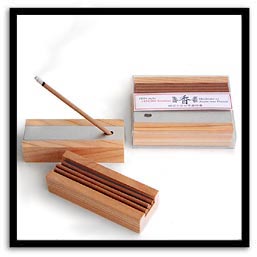 Hinoki Incense
8 Sticks w/ Stand (as shown)
- $12.95 - Incense Refill - 16 sticks
- $12.95 -

Hinoki Incense
A luxurious incense set including high quality hinoki incense, hinoki wood holder and stylish aluminum-topped burner - all attractively packaged in a clear box.
Great for travelling, too.
SPECIFICATIONS:

3.25 x 2.5 x .75 inches
(Burner & Holder in box)

BURN TIME: 20 min.