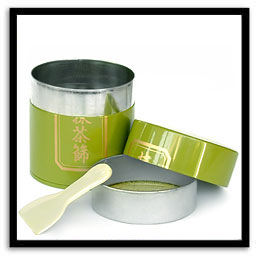 Matcha Sifter
- $24.95 -

-
For best results when preparing matcha, it is recomended that the tea powder be sifted before whisking. This attractive set includes a covered tea canister, screen insert and paddle for a rich, smooth bowl of tea every time.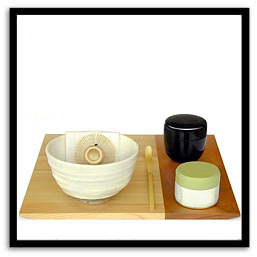 Chanoyu Starter Set
- $98 -

($117.70 VALUE - SAVE ALMOST 10%)
We have assembled a deluxe set of everything you'll need to begin practicing chanoyu - the Japanese tea ceremony: a handmade Hagi-style teabowl, linen wiping cloth, bamboo tea whisk, bamboo tea scoop, lacquer tea holder, 20g can of premium matcha and hinoki tea tray.


Hinoki Tea Tray
- $28.95 -

Dowel-joined cherry and hinoki wood tea tray.
MEASUREMENTS:
11¼ inches square